This month the crew reunites to catch up on Stu's new CFI rating, a "new" J3 cub added to Mike's hangar, and accident investigation training undertaken by Stew. We also have a product review and a few recommended books.

This episode of the Pilot's Journey Podcast is brought to you by CrazedPilot.com where you can get the stuff you need to keep flying from people you trust. Use the discount code journey for 15% off your next purchase.
PIREPS:

PilotStu describes his adventure in an accelerated CFI course at MN Aviation in Albert Lea, Minnesota. He notes that it was a tremendous amount of work, but well worth the effort. Going through the program with Stu was Gabe, an energetic pilot from the Pacific Northwest, who was going for commercial single engine, CFI, commercial multi-engine, CFII (instrument instructor) and MEI (multi-engine instructor) in one massive swoop. After recording, Stu learned that Gabe had to postpone the CFII and MEI ratings since he ran out of time. He plans to pursue those back at his home base.



Mike fills us in on his latest purchase - a vintage J3 cub. Mike also describes his work towards earning his tailwheel endorsement and his new found "happy feet" in managing the cub on the ground.

Stew discusses the Accident Investigation course he took as part of his degree program at Embry-Riddle Aeronautical University.


PRODUCT REVIEW:

Stew reviews the Flight Time - Instructor iPhone/iPad App. Intended for working CFIs, this app helps instructors keep track and manage student training and payments. Stew had a few suggestions on how this app could be even more useful, but felt it did well for what it does. Priced at $7.99, Flight Time - Instructor is available for iPhone, iPad and iPod touch devices in the Apple App store.


CONTEST:

In honor of the Fort Worth Alliance Airshow on October 22 & 23rd, 2011, our Aviation Challenge for this month is for you to send us a link to your favorite online airshow video. It can be of an airshow act, the ground events surrounding the airshow, or a video of people enjoying the show. The winner will receive a WindTee T-shirt.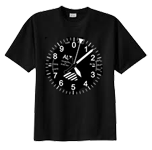 Send your entries via: Entries must be received by 5:00 PM Central time (2200Z) on October 31, 2011.

Join us for the Fort Worth Alliance Airshow on Saturday and Sunday, October 22 and 23, 2011. Watch our Twitter feed at @PilotsJourney for specific times and locations for Pilot's Journey meetups. One lucky meetup participant will win an headset friendly CrazedPilot.com hat.
RECOMMENDED BOOKS:
LINKS:
Podcast: Play in new window | Download
1:16:39
70.2 mb

Show notes: http://www.pilotsjourneypodcast.com/pjp036

(c) 2011, Fully Stewed Productions
All rights reserved